If you are one of these people who are very picky about the decorations of the garden. If you are looking for nice and attractive garden décor then there are so many nice options for you. You should go for those plants that can be grown easily. Besides that always pick the plants that are easy to maintain and take care of. Another most important thing that you have to keep in your mind is that choose plants according to the weather in your area. Like if you live in a place where there is no or little rain then never choose the plants that require plenty of water and partial shade. Along with that the condition and type of soil is another important factor that should be taken into consideration. If you love vibrant and bright colors and want beautiful colored plants in your garden then a tree with purple leaves is best for your garden. In this article, we will suggest to you the 15 best purple Flowers plants that are suitable for your garden. We will also let you know about their characteristics in detail.
1. Lavander:
A plant with the scientific name Lavandula is one of the most common plants that can be grown in your garden. This plant has a soothing fragrance and is used in several home remedies for skin and body care. This plant will give you a calming effect and also help in good sleep. Along with its benefits, its look and color are so attractive and eye-catching. Its season of interest is mid-summer. This plant thrives for moist soil. Its length is about 3feet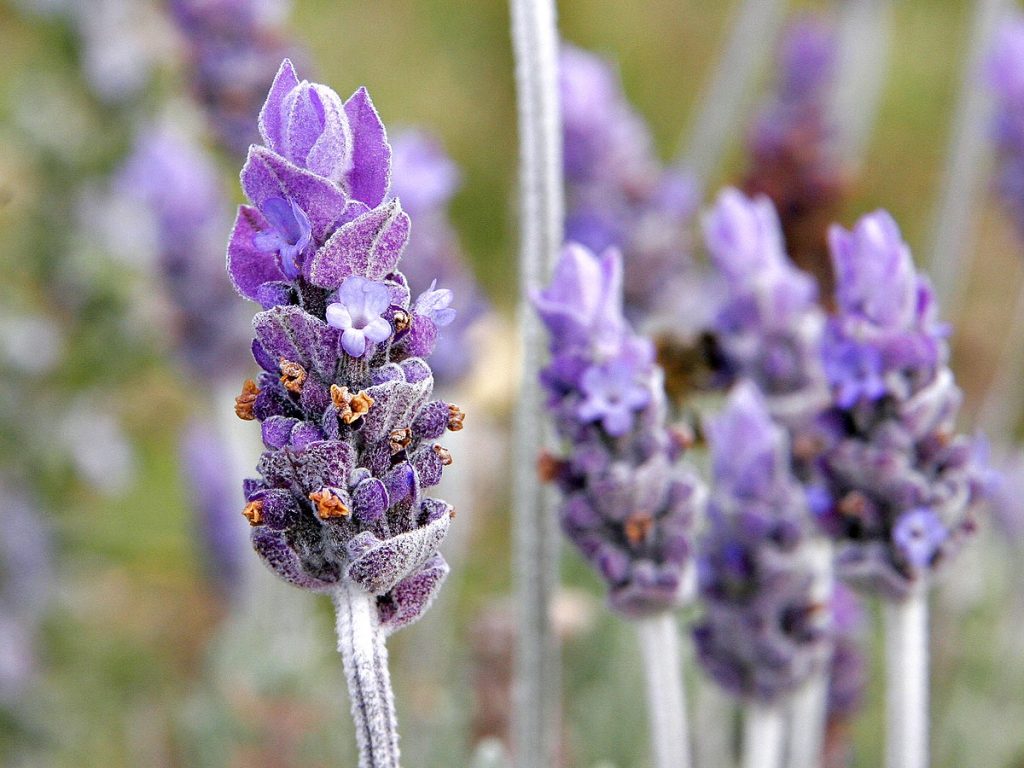 2. Lilac:
Another beautiful purple plant with the scientific name Syringa. It's famous because of two reasons firstly its bright purple colour and secondly its calming scent. Its recommended to trim the stems for a perfect look. Its flowers bloom at the end of spring and you will feel enchanted with its heavenly fragrance. This plant is suitable for those gardens where full sunlight is available because it performs well in full sun. The soil should be well-drained otherwise its roots will get damaged because of overwatering. Its standard size is approximately 15 feet.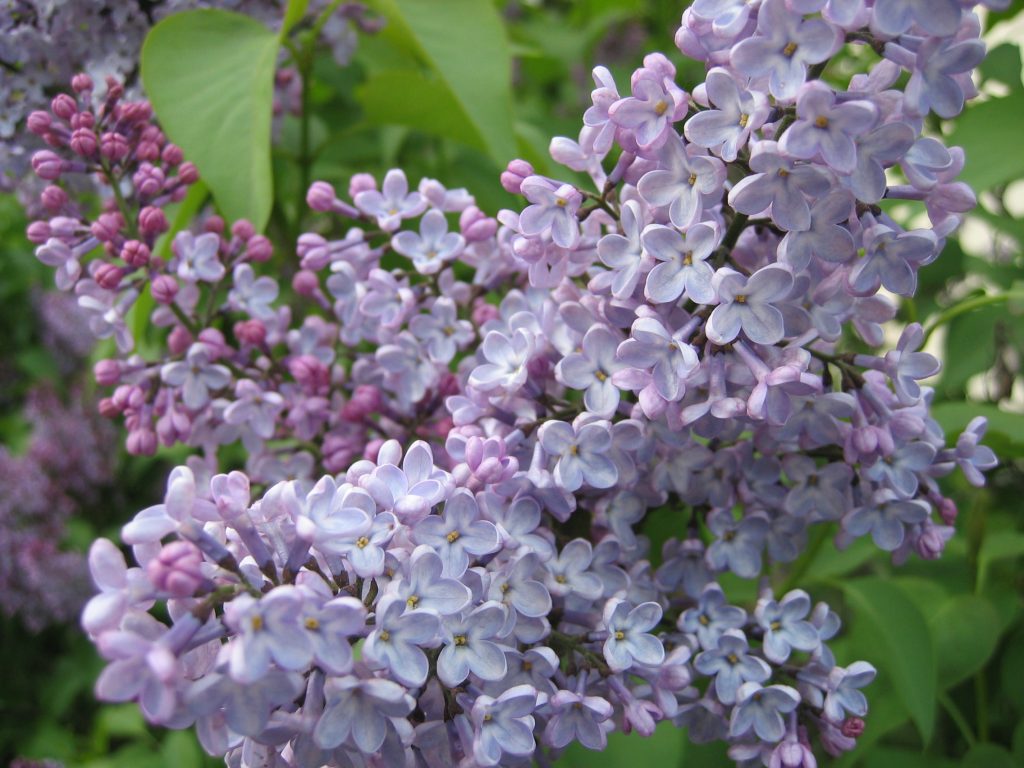 3. Allium:
If you still want some purple plants in your garden then go for Allium. This is one of the best flowering plants of the world used for ornamental purposes. It has a nice long stem on the top of which a purple fluffy flower blooms. This looks so good and attractive. One important thing about this plant is that it's slightly poisonous and extremely toxic for animals. So if you have pets keep them away from this deadly flower. This plant blooms in hot summer. Its average height is about 4 feet and thrives for rich and fertile soil.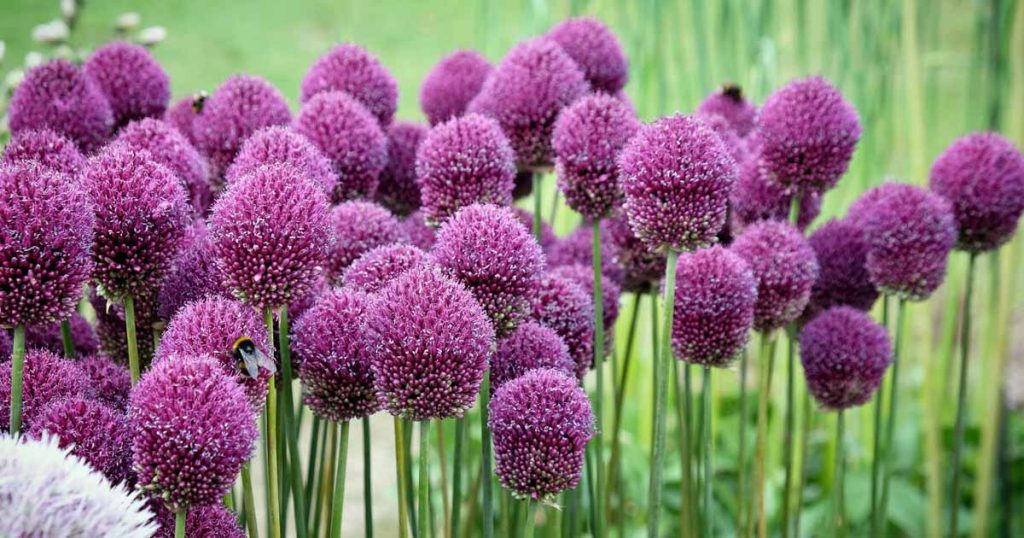 4. Petunias:
This pretty plant can be the most beautiful addition to any garden. Its shady purple flowers are so attractive and enchanting. It's famous for the scientific name Petunia. Surprisingly this pretty plant is available in several different shady colors including red, purple, pink, etc. This plant loves sandy soil and thrives for partial sun. Its average size is approximately 4 feet wide and 8 feet tall.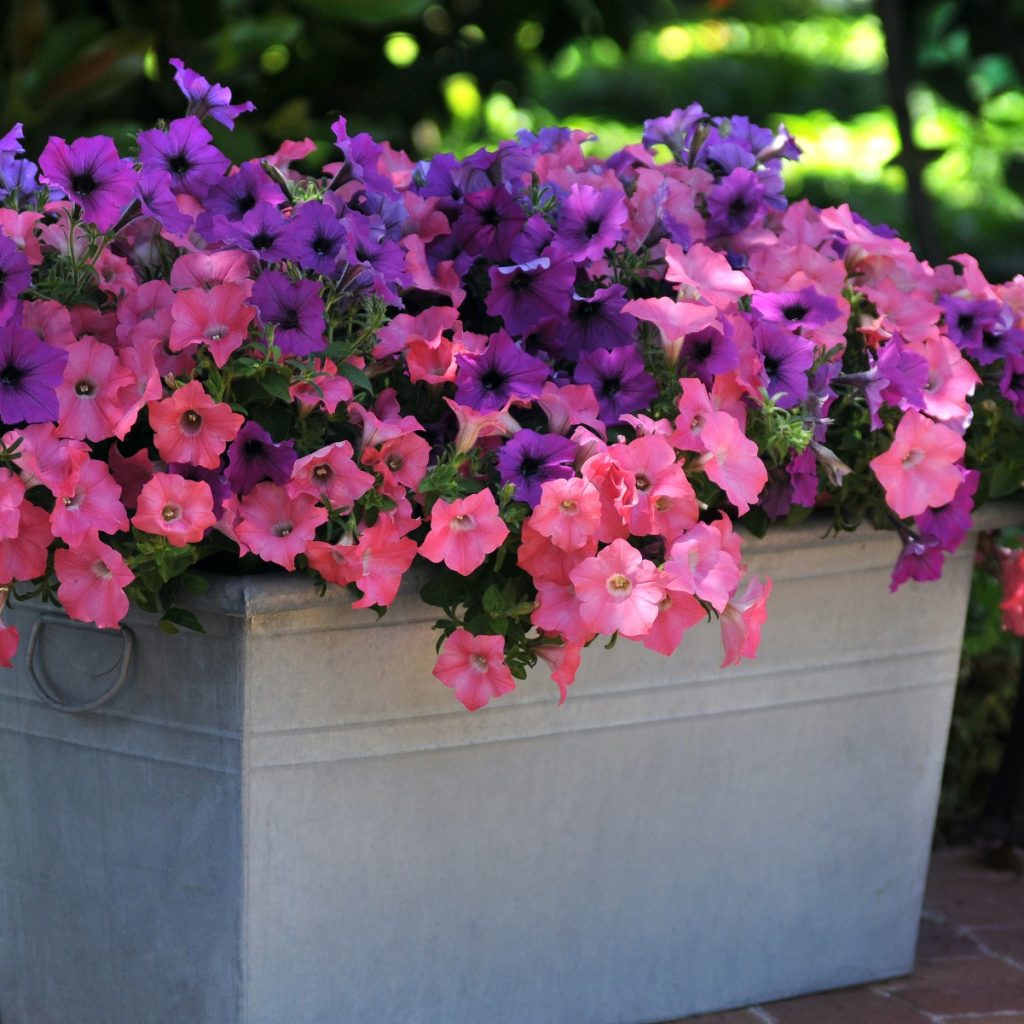 5. Purple Cornflowers:
The scientific name of this flower is Echinacea purpurea or Echinacea. These are pretty flowers that help to add beauty to your garden. Additionally, if someone wants some spark of purple shade then this is the best choice. The pleasant smell and attractive look of flowers make you feel awesome. This plant can better survive in summer to fall or it is suitable to place it near full sun. The amazing thing about this flower is that it can tolerate dry soil.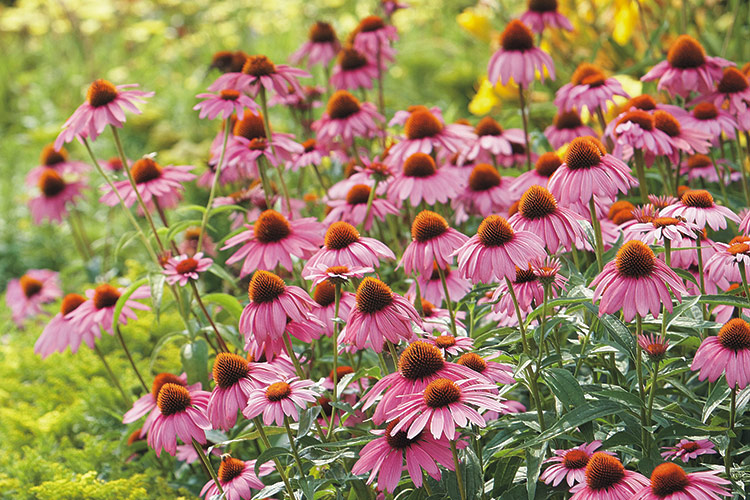 6. Clematis:
These flowers can grow in different types of stunning shapes. Additionally, star-like petals make your garden attractive. However, one important thing is that it needs pruning because it's essential to cut off dead sections for better growth. The scientific name of this plant is clematis. It is suggested to place it near a sunny place or in that area where its roots receive a maximum moisturizer.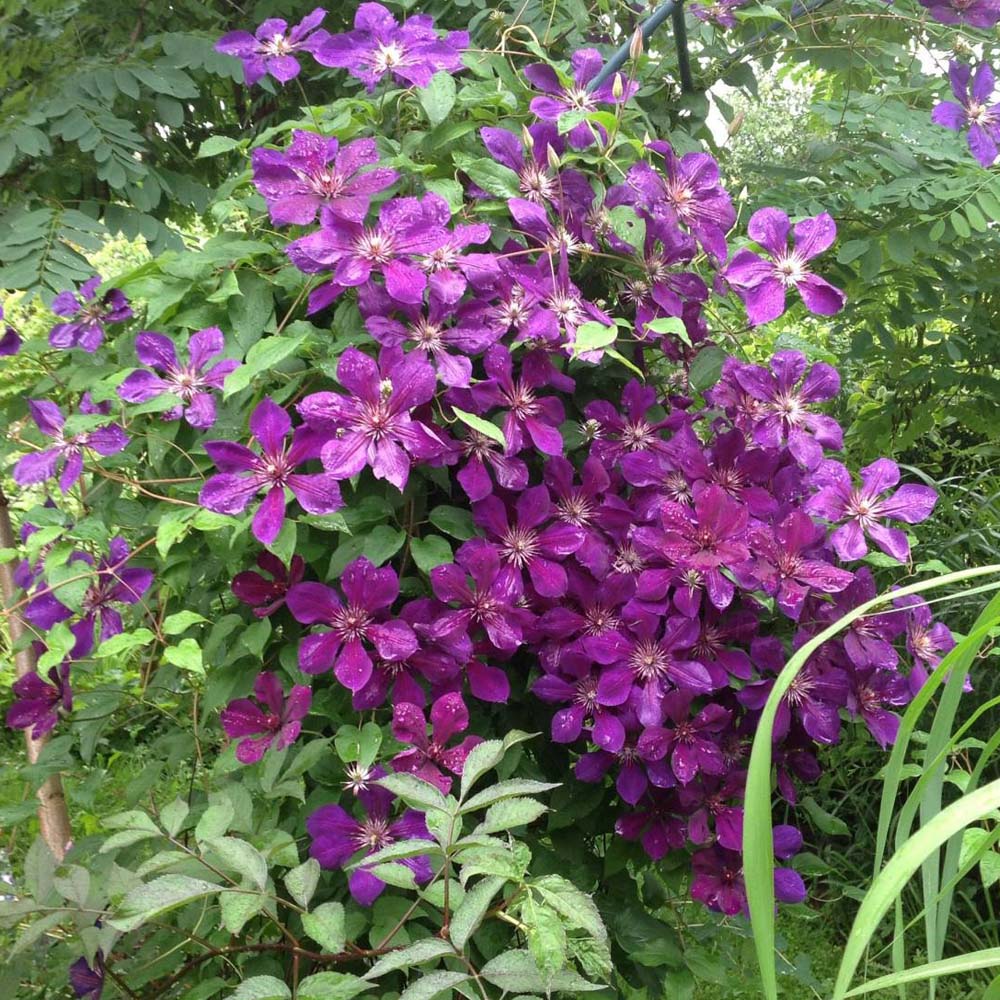 7. Bullflowers:
These flowers have an awesome smell and their looks are also attractive. In addition to this, it is available in dark purple color but sometimes it seems like the blue shade because of the effect of the light. This can help in making your garden stunning and amazing. The Interesting thing about these flowers is that they are edible and you can use these as your food. The scientific name of this flower is campanula. Furthermore, it requires some attention as you should provide well-drained soil and place it near full sun.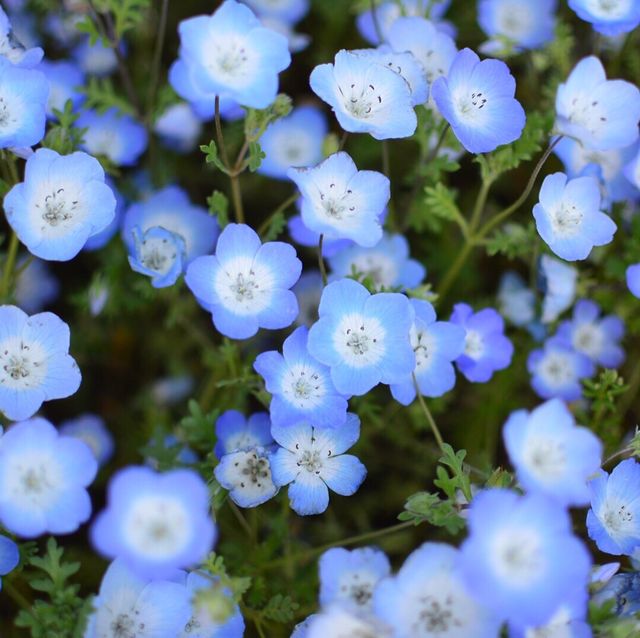 8. Gladiolus:
These belong to the family of iris, an ornamental flower that is simply amazing. Moreover, these are frilly, vibrantly deep purple flowers that help increase the beauty of your garden. The scientific name of this flower is gladiolus. It is recommended to place it near the full sun and also provide well-drained soil. These plants grow up to 2-5inches.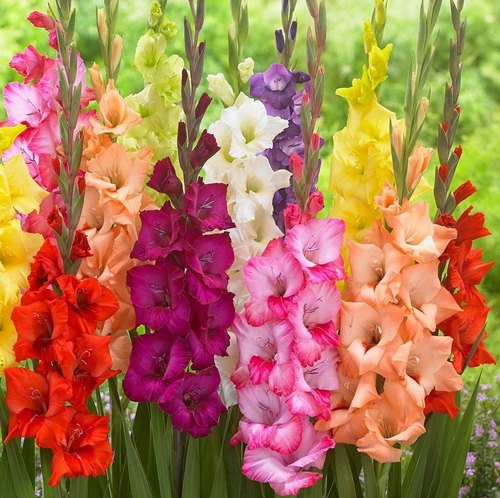 9. Purple Glory:
As it's beautiful name shows that how perfect these flowers are to make your garden beautiful and add purple shade to your garden. The most interesting thing about these flowers is that they are the best choice for those who have less time and prefer to give less attention to flowers. Along with this, it is easy to grow it without taking care of any essential requirement. But one little thing that you should focus on is that it is toxic to animals to keep away your pets from these flowers. These can better survive in full sun or well moist soil.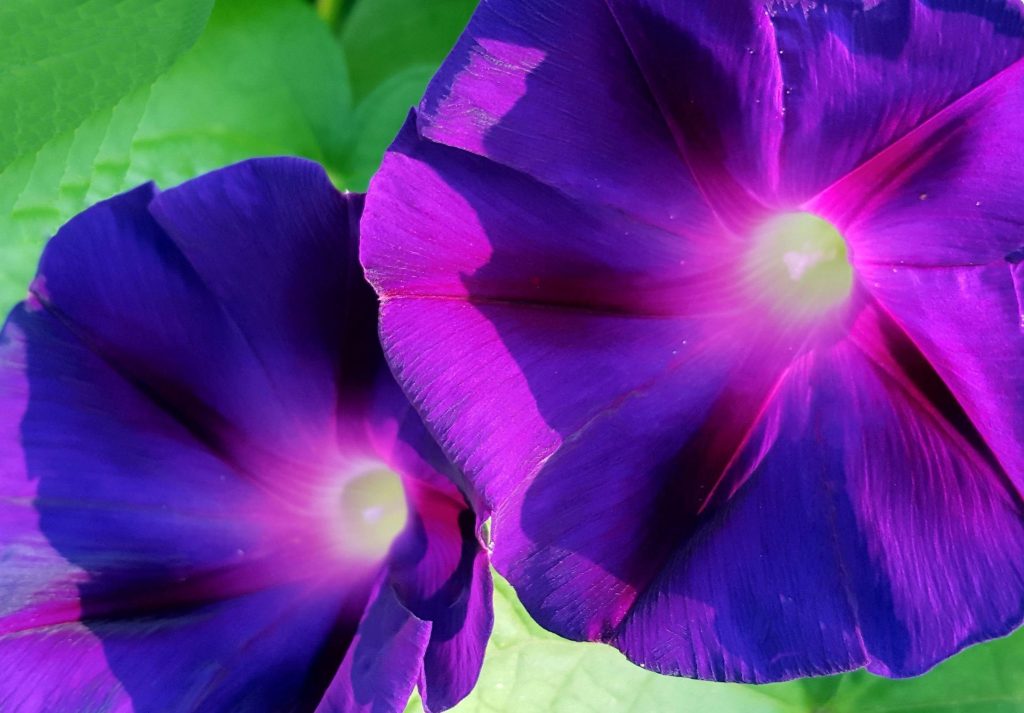 10. Purple pansy:
Are you looking for some particular color flower or we can say you need a purple shade flower then this is the right choice for you. These can enhance your garden's beauty because it has purple color with yellow petals. Besides that, its fragrance is so amazing that makes you feel pleasant. For the better growth of this plant, it is suggested to cut off their dead heads. Additionally, well-drained soil and full sun are most importantly requires for its survival. These plants grow 6-12 inches tall and 4-12 inches wide. Its scientific name is Viola tricolor var. hortensis.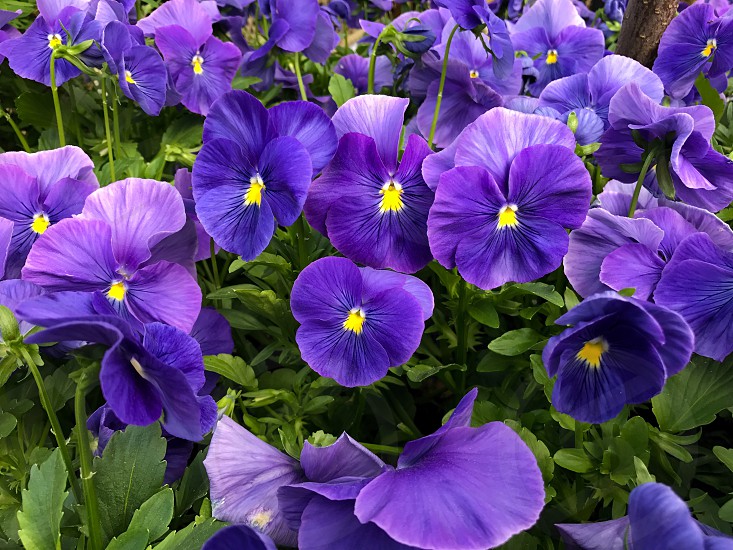 11. Balloon Flowers:
This beauty has a unique scientific name that is Platycodon grandiflorus. It blooms with flowers whose petals are just like a star. These flowers are purple. Significantly, the ideal season to grow this flower range from late July to mid of August. Its hardiness zone is 3-8. Balloon flowers need partial shades and a location that can receive good sunlight. The soil for the plantation of Balloon flowers must be well-drained and moist. The average growth of this plant is 2-3 inches. To clarify, it is very essential to take care of its roots because the root of the balloon plant is tough.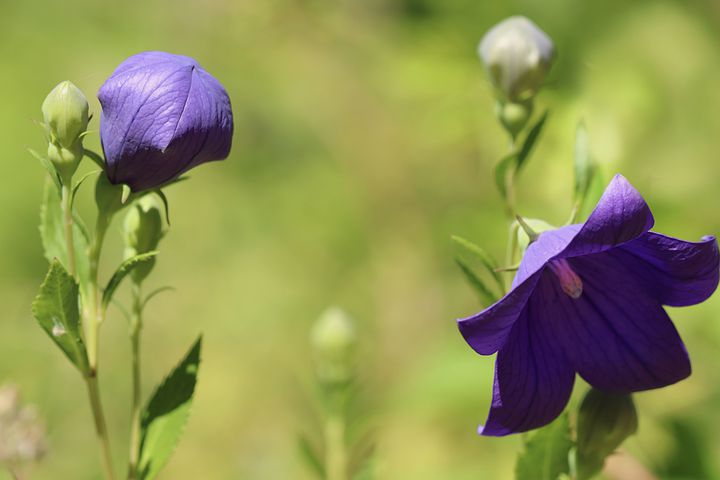 12. Lupine:
Another stunning plant that has purple leaves is Lupine. It is scientifically known as Lupinus. Most importantly it is very crucial to prevent this plant from over sunlight and extreme heat. These flowers can not tolerate a harsh climate. The ideal season to grow this plant in spring. The hardiness zone of this plant range from 4-8. If you are living in a hot region then these flowers need partial sunlight. But if your region is cold, then in that case full sunlight is essential. The soil for the Lupine plant must be well-drained.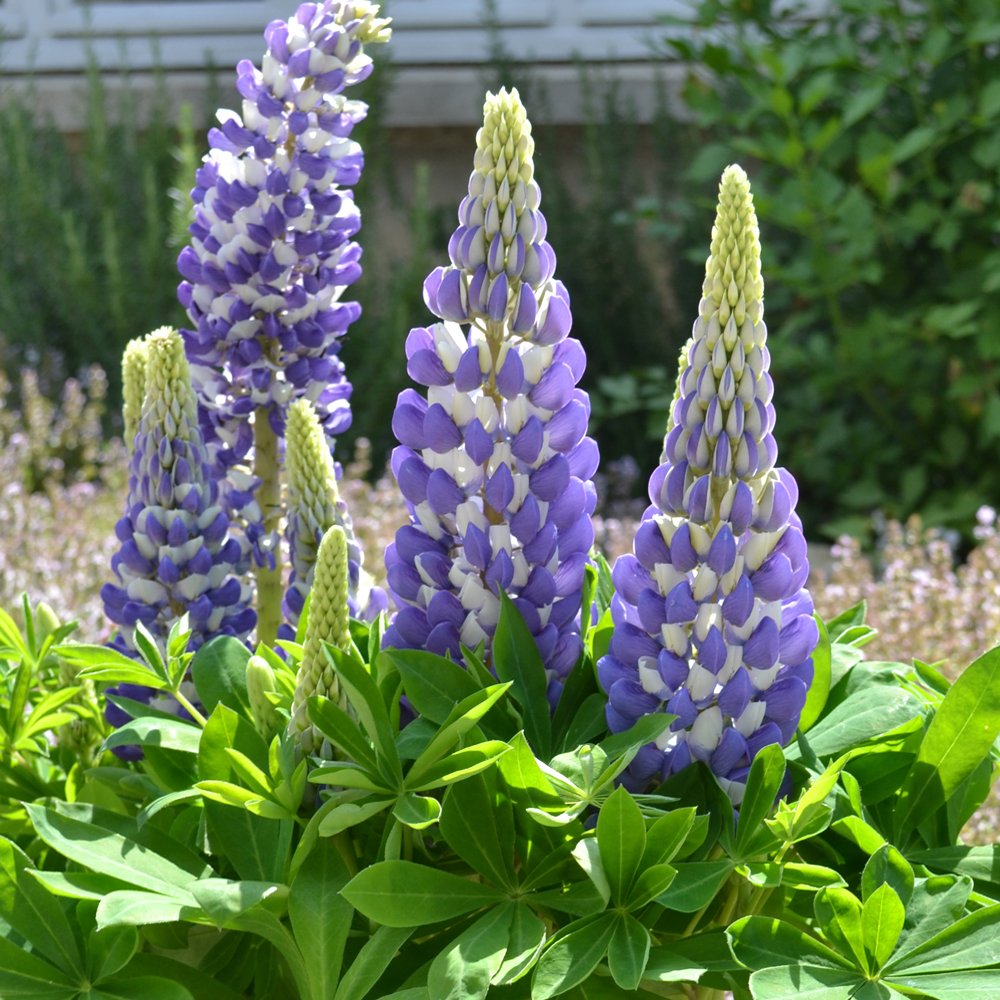 13. Verbena:
Verbena is such a plant that is enough for filling the gaps around or inside your garden. The scientific name for this plant is Verbena. Interestingly, it produces little beautiful flowers that together make an attractive bunch of purple blooms. It is considered both a perennial and annual plant. In addition to this, the Verbena plant blooms throughout the year. So you can enjoy them for a long period. The best season for the plantation of this plant starts from spring to fall. The hardiness zone of this plant is 7-9. It requires full sunlight and good drainage soil. The average height of this Verbena plant is 3 feet.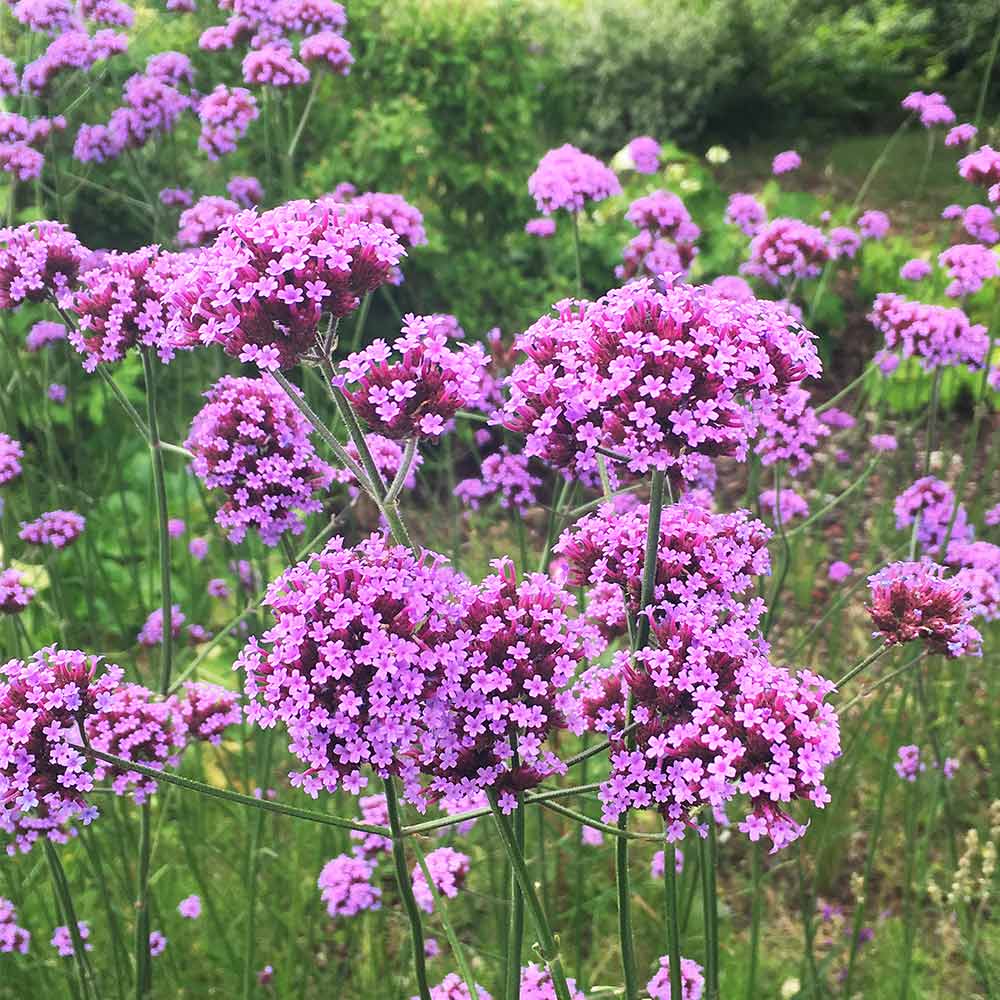 14. Cosmos:
Cosmos is an annually growing flowering plant. It has small petals in light purple colour. The blooming time of these flowers is in summer. These flowers spread widely due to which they need lots of space. Cosmos flowers can tolerate any type of soil but they prefer well-drained soil for healthy growth. The size of this plant is 5 feet. Moreover, the hardiness zone of Cosmos range from 2-11.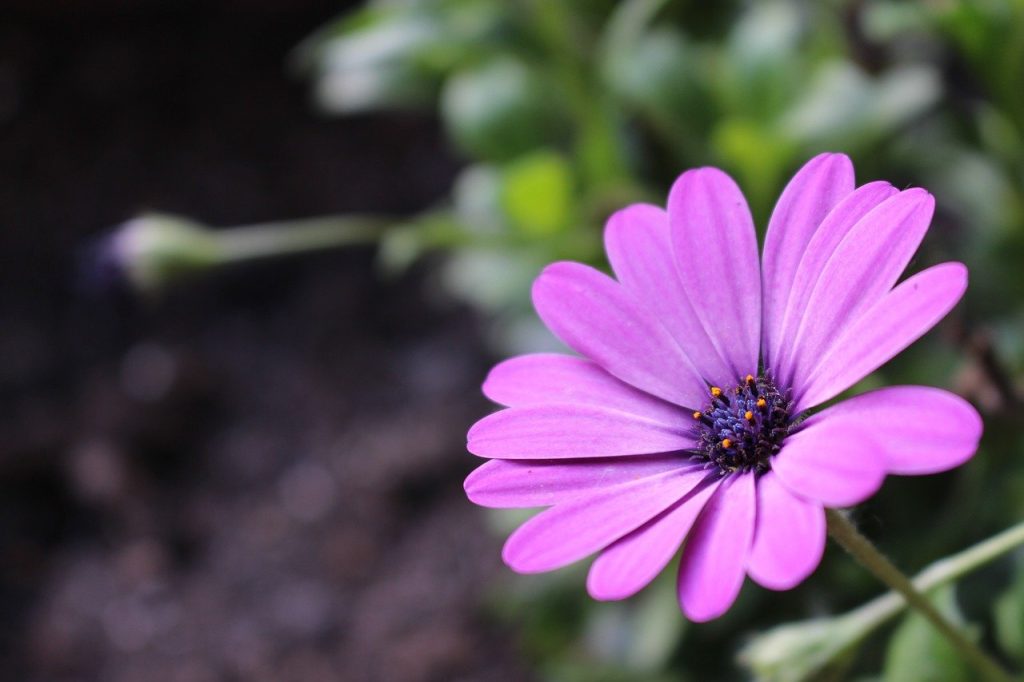 15. Foxglove:
Foxglove plant not only possesses a unique name but is also eye-catchy in appearance. It has stunning cup-shaped tubes in purple color. Every flower of this plant is attractive from inside and out. This plant is considered as the biennial plant which means it can survive only for two seasons. But if this gets good care it can last for a whole year. The blooming season of Foxglove is early summer. Its growing zone is 4-10. Foxglove plant grows 1-8 feet tall. Significantly it requires moist soil and full sunlight.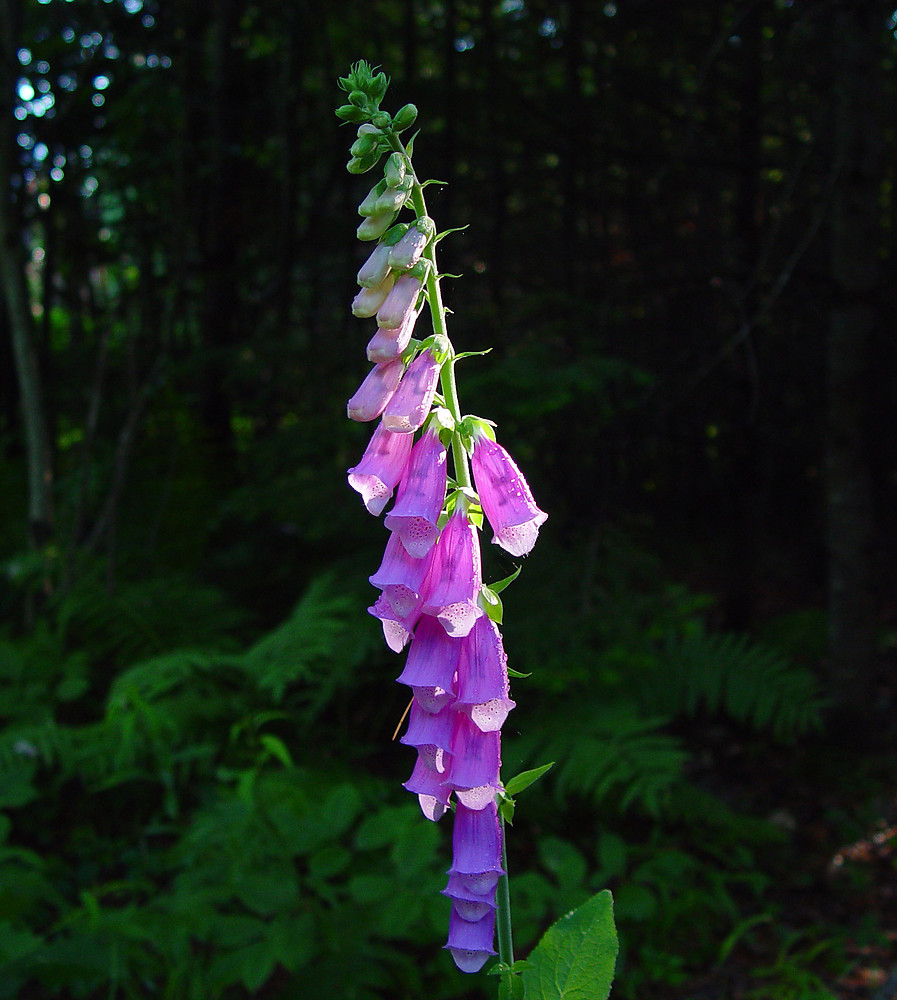 Conclusion:
To sum up, various flowers in the world are famous because of these beautiful purple leaves. These flowers not only add beauty to your gardens but also spread pleasant fragrances in the air.  In this article, we have selected the top 15 plants with purple leaves for your convenience. So if someone wants to make their gardens attractive they can grow any of the above-mentioned beautiful flowers along with unique purple leaves.